Five Psychological Tips for Weight Loss You Should Know
Battling with weight issues means losing your sleep over it rather than losing the weight itself! Add to it the disastrous recipe of the information overload about numerous fad diets, long-standing myth-busting, contradictory scientific findings, and a plethora of quirky ways to get rid of the stubborn fat, and you know the confusion most people face. New research findings are generated almost all the time and information related to weight loss undergo drastic changes now and then.
Hence, it is not practically possible for an individual in dire need to set fitness goals and to delve through such complexities. To get guaranteed results, stick to some core principles in your weight loss journey. This is exactly where you must think of 'SMART' objectives- specificity, measurability, attainability, relevance, and time-bound. While this concept existed since George T. Doran propounded it way back in 1981, but it holds in most other situations as well.
Have A Specific Idea
It is not enough saying 'I'm trying to lose weight'. Be sure of the amount of weight you wish to lose and the time by when you plan on doing this. But, make sure you discuss this with your fitness expert and nutritionist to be sure you're focusing on the right goals.
Depending on your body type, the experts will guide you through the process, which includes the exact number of days, the weight you need to lose, and your diet plan.  It is only after you set specific goals that you know the motivation to achieve the target increases.
Measurability Is The Key
In other words, set goals that you can measure. Just because you feel the need to 'lose weight' seeing others or it's in vogue, doesn't imply that you can attain the same in a jiffy! You need to have a clear idea about what and how much effort you should put to accomplish it.
If you have already started working out and following a strict lifestyle regimen, continue checking your weight daily. This is a reliable and most importantly, actionable job from your end that would ultimately pave the way to progress. Keeping a track will also let you know if the process you've undertaken is the correct one or not. In case it is not, change your strategy likewise.
Learn How To Achieve Your Goals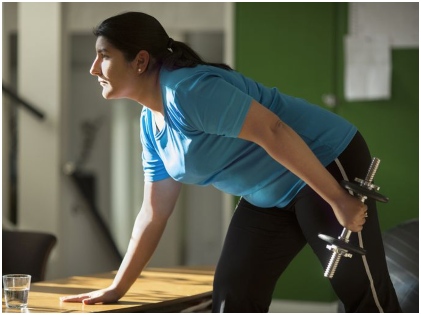 It's a tough thing no doubt, but you must be determined enough to work through the process and find the best way to accomplish your goals. So if you have set a target to lose 50 pounds, your motivation can see a fall, simply because the end goal is not an easy one.
Contrarily, if you set it to somewhere around 10 pounds, grasping that is far easier. Choosing larger goals is not a wise decision, for it keeps stretching and you tend to lose the required zeal in attaining that. Set small targets and you will not be disappointed.
Act Realistic
What is the point of having weight loss goals when you have no idea whether it's possible to implement or not? Planning in a realistic and relevant manner means you need to be focused on your goal.
So without wasting time over fads and overhyped information, look up the books, the internet and know exact details about weight loss. Additionally, talk to a registered nutritionist or dietician and visit a fitness instructor to understand what strategies you must choose and how it must sync with your lifestyle patterns.
Learn To Be Accountable For Yourself
To make your goals successful in the long run, the responsibility lies on you. In adopting personal and social accountability, you will gradually learn to proceed towards the larger goal of losing weight sooner.
As much as you take the onus for fulfilling the objectives on time for yourself, you motivate many others to walk in your path too. But above all, be honest with yourself. If you want to lose weight, stick to the most rational, and befitting weight-loss techniques. Besides, no single source of information should be considered adequate for chalking out an extensive plan for losing weight in the quickest time possible. The likelihood of bettering your chances of losing weight will increase manifold if communities and social networks are also involved.