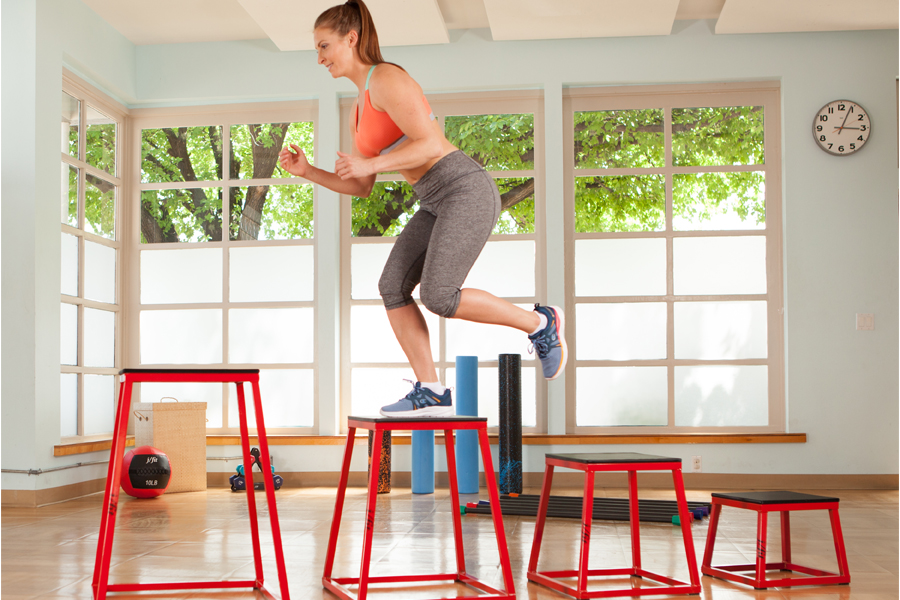 If you are an athletic individual, you probably know how important it is to keep your body in great shape. There are numerous types of equipment used for athletic training but one of the most dynamic is known as the plyometric box or plyo box. A plyometric box is used for all types of athletic training, and due to the intense nature of this training, the boxes are well designed and very durable. Plyometric boxes are sometimes made of steel or wood and some plyometric boxes are height adjustable, while others their height is fixed. In case the height is fixed, you can opt to buy a set of different heights and combine them. Most plyometric boxes have stoppers at the base to reduce damage to floors in the workout area and to provide grip.
Most Popular Plyometric Box
Fuel Pureformance
This plyometric box is an adjustable box from Fuel Pureformance. The plyometric box is adjustable to 3 separate height levels of 14 inches, 22 inches and 18 inches. The box has a powder coat finish with a landing slip that provides a non-slip surface. It is simply a "must have" for your vigorous and intense athletic training. By using this box for training you will not only increase your foot speed, you will also improve your vertical jump and overall fitness. This plyo box opens a variety of exercises that only your imagination can limit and is designed to save on space, meaning you will not have to worry about tight workout spaces at home or at the office.
Best Overall Plyometric Box
j/fit Plyometric Jump Boxes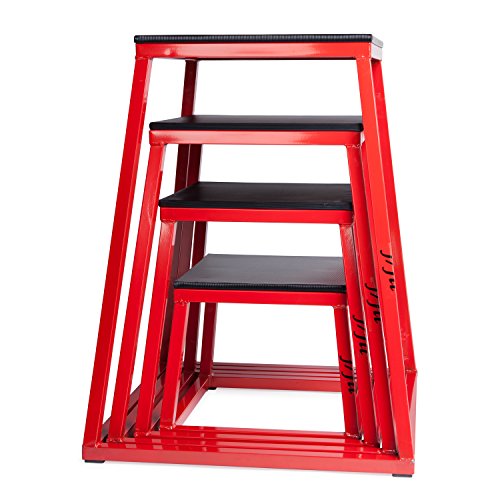 These amazing plyometric boxes from J-Fit and come as a set of four. The four plyo boxes are of varying height including 12 inches, 18 inches, 24 inches and 30 inches. Theyhave a frame made of solid steel and have rubber pads at the base of all four edges to prevent slipping. The rubber padding is actually screwed into place to make sure that they do not fall off and ensure that the boxes do not slide and cause injury to the user. The box is excellent for lateral jumps, forward jumpsand plyometric drills. Using these plyometric boxes ensures that you develop the agility, strength and power required in most athletic sports. The boxes feature a tapered design that offers greater stability and easier jumping. The boxes stack easily on top of each other for easy storage. When shipped the package weighs around 95lbs.
Best Budget Plyometric Box
The Plyobox Warehouse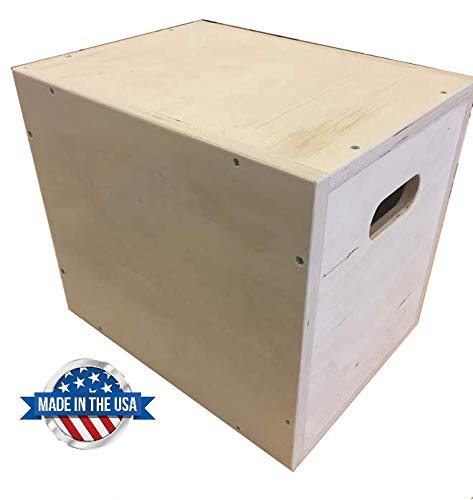 This plyometric box from Plyobox Warehouse comes with an exercise book included. It is made of quality plywood that does not warp or lose its structural integrity over time. The product is made in the United States and provides a good value of quality vs. pricing. The box is commercial grade, which means that it can support weights of up to 350 lbs and the edges of the box are machined for safety and eye appeal. This box is perfect for a variety of exercises and assembling the box takes just a few minutes using a regular screwdriver.