Seven Fashion Blunders Every Petite Woman Should Avoid
Petite women are really cute and attractive. But not everyone is happy looking small and almost child-like, and they're right, too — it isn't fun being asked for your ID every time you walk into a party with your friends, right? If you are bothered with being mistaken for a child too often, here's a guide to help you dress up in a way you'd look all grown up. The guide is simple: You just need to know what NOT to wear.
Here are some things you need to avoid when it comes to fashion:
Long Boxy Top is a Big No
This top literally derives its name from the way it looks — a box. The square-shaped design is perfect for accentuating the shoulders and makes a person look broader. And while they aren't necessarily a bad clothing choice for petite women, make sure not to go for the long ones. They tend to make you look wider and smaller (more than your already small size that is). Instead, choose midriff boxy tops that show a little skin (which stylists believe makes you look taller). If you're not comfortable with showing your belly button, no need to worry; you don't have to cross out boxy tops off your list just yet. You can go for a boxy top that falls an inch longer down your waist. This way, you can wear a top of your choice, and yet look flawless in it.
Oversize Bags are Too Much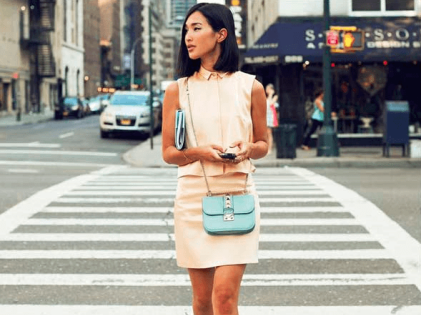 Huge bags are every girl's favorite, and why not? You can fit in a whole lot of stuff in there and step out of your house sans the worry of forgetting something. But, if the handbag you choose is a bit too large for your frame, then you'll end up looking like that little girl wearing her mom's high heels. For the petite body size, big bags are a big NO-NO, and small to medium-sized handbags are the best way to go. Handbags with a satchel style or a bag carried using the arm instead of being placed on the shoulder are also safe bets for women of short stature. Always make sure you try the bag before you buy it. This way, you won't look funny and would also avoid buyer's remorse.
Chunky Accessories Have to Go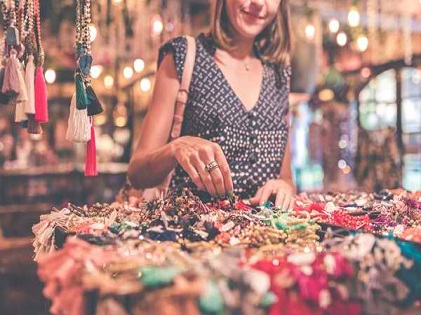 Did you know that your accessories could be making you look petite? Chunky accessories tend to take up too much space on your body and make your frame look tinier. This means that the chunky necklaces and bracelets aren't such a good idea. Steer clear from these types of accessories unless you want to be considered invisible.
Avoid Layering
Even if you have a really good style when it comes to layering clothes, it's better to avoid it as much as you can because, with your frame, you might get buried underneath all those layers. Keeping it chic and simple is the way to go. The layers also make you look a bit plumpy, so that's another reason to avoid the layers.
Mini or Midi instead of Maxi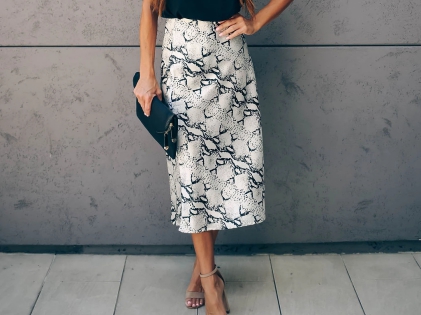 The hemline of a maxi skirt is unflattering on a petite woman's frame as they cover your legs. Better stick to skirts that fall an inch or two above your knees (Hey, even if those legs are short, they could still be killer!).
However, if you are not comfortable wearing short skirts, you could pick one that is just a few inches above your ankle.
Wide-Legged Pants Have to Go
These kinds of pants work the same way as clothing with horizontal stripes; they make you look wider when all you really want to do is to look taller. It's better to stay away from them. Instead, pick pants that are skin-hugging or narrow legged, which will create an illusion of making you look like a taller person.
Baggy Jeans Don't Look Flattering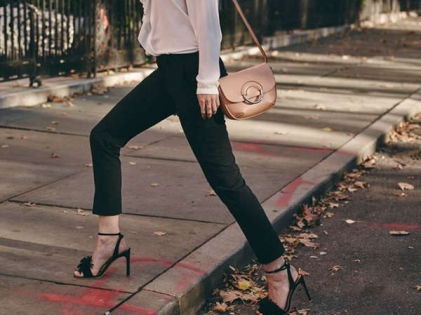 They are not appropriate and will not flatter your frame. Go with a pair of jeans that would make you look great and taller than you actually are. There are many pants you can choose from – high waist, slim, straight – just don't wear baggy jeans!
Get Rid of That Big Choker
This one tip is not limited to just the petite women out there, but also for those that have a short neck too. Having a big choker around your neck would only highlight your short frame, no matter how stylish they are! To look taller, use a necklace that falls just below your bust and above your waist instead.
Keep these pointers in mind to make sure your style compliments your petite frame in the best way possible. But whatever fashion experts say, never forget that you are beautiful, and it's totally okay if you need to wear three-inch stilettos to feel that way.